PV Voices... PV Spirit

PV Spirit> Community Heroes

Shining examples of people who care
July 2014> Jon Linder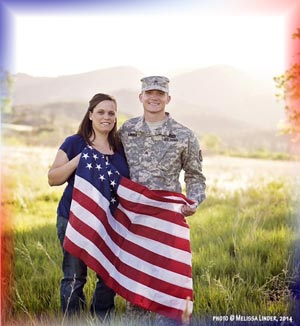 Jon Linder is the PV Spirit Community Hero this month. Nominated by his wife, Melissa, she shared "My husband is my hero. He is currently getting set for his 3rd deployment. He is a wonderful Sgt to his team and a wonderful father to our 4 children."
Wow! In just a few words, you can feel the love and devotion in this family.
Thank you Jon and Melissa.
Melissa's photo also won the PV Rolls "American Spirit" contest. You can see why.
Many families in the PV share this common thread - "the PV Spirit" of caring for one another, for family, for our team, our community and country... and striving for excellence for the benefit of others. And several families in the valley and throughout the US have loved ones in the military, who are sacrificing time with their families for all of us. We thank Jon and Melissa, and all families in this situation for their loyalty and perseverance.
Numerous young men and women from PV have dedicated their lives to serving others through the armed forces. We are grateful for their desire and commitment to maintain liberty and justice for all.
Jessi Clark, administrator at PV Medical Clinic in Mesa & in Collbran Colorado, is The Plateau Valley.com's Small Business Heroes this month. Read More
PV Spirit> Community Heroes "Nomination Form"

What business or person in the Plateau Valley do you admire, applaud, enjoy?

RESIDENTS - VISITORS
~
Home | About |PV Posts | PV Voices | PV Rocks | PV Rolls | PV Rules | PV Spirit | Things to DO | Places to GO | People to SEE| Contact Us
Plateau Valley Businesses & Orgs Directory | From PV? Get Listed | Enhance Listing | Offer Prizes/Sponsor Contests | Add Ads | Email Login