People To See in The Plateau Valley
Business Directory ~ Prize Donors ~ Current Advertisers
Current edition of THE Plateau Valley.com Post ~ Service Directory
PV Spirit Winner 12/01/12> Small Business Owners

Don & Kristi Mease, owners of Collbran Auto Parts, are December's Community Business Heroes.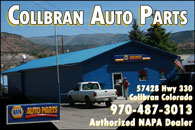 Don & Kristi Mease are owners of Collbran Auto Parts
It's worth a trip to Collbran to pick up your auto parts; and some days you may even get there early enough for home-baked cookies...
Most days, you'll see Don at Collbran Auto Parts, but Kristi will be at the school, since she's the PV Elementary School principal. They moved to the Plateau Valley over ten years ago to enjoy the "small town atmosphere", which obviously means getting to know your neighbors! Don & Kristi are faithful supporters of many activities that benefit the youth in the valley. We applaud their Plateau Valley Spirit!
Collbran Auto Parts
Hours: Mon-Fri 8am-5:30pm and Sat 8am-1pm
970-487-3013
PV Voices... PV Spirit

Submit your POV ~ Win a prize, perhaps!
What business in the Plateau Valley do you think does the most for the community? Please Tell Us!
Go ahead! GIVE US YOUR POV! RESIDENTS - VISITORS - online replies to this question will be automatically entered in the PV Spirit>Small Business Owner Monthly Drawing.
Faxed and online entries close at midnight (MDT) on the last Saturday of the month; snail mail entries must be received at McDel's PO Box by the last Saturday of the month.
Home | About |PV Posts | PV Voices | PV Rocks | PV Rolls | PV Rules | PV Spirit | Things to DO | Places to GO | People to SEE| Contact Us
Plateau Valley Businesses & Orgs Directory | From PV? Get Listed | Enhance Listing | Offer Prizes/Sponsor Contests | Add Ads | Email Login