People To See in The Plateau Valley
PV Spirit Winners August-November 2013
Small Business Owners > Kenny & Paula Lynn
Kenny & Paula Lynn, owners of The Drive-In, are The Plateau Valley.com's Community Business Heroes this month. Kenny & Paula are wonderful examples of "team spirit"! They always see the good in others, are willing to help, and look for the win-win in a situation.
Just one example we know of is that for the Plateau Valley Gymkhanas last year, win or lose, ALL of the kids participating got ice cream! Kenny & Paula have supported several events over the years, and have added landscaping and picnic tables for a nice gathering area.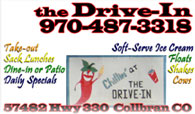 Kenny & Paula Lynn are the owners of The Drive-In
Be sure to stop by - weekends may bring music, carnivals, garage sales, or ???!
PV Spirit Winner for Aug-Nov individual: Lita Hill Read More
PV Voices... PV Spirit

Submit your POV ~ Win a prize, perhaps!
What business or person in the Plateau Valley do you think does the most for the community? Please Tell Us!
Go ahead!
GIVE US YOUR POV!


PV Spirit> Community Hero Nomination Form

RESIDENTS - VISITORS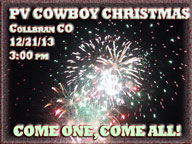 Deadline is 12/10 for December
Deadline is 12/25 for January
All new starting in 2014
"Monthly Favorite _____"
December Spirit Winners will be asked to be Grand Marshalls at the Plateau Valley Cowboy Christmas in Collbran on 12/21/13
January PV Heroes> "Nominate Your Favorite Fisherman"
Entries close at midnight (MDT/MT) on the 24th of each month; entries received after the deadline and non-winning entries are entered in the next month's drawing.
PV Voices - Stellar PV Spirit
Mike Currier Ranch
Nichols Electrical Service
Ole Dad's Liquor Store
PV Ranch
RP Services
Shear Inc
Spangler Ranches
Splish Splash Dog Bath
Sunnyside Production LLC
T&K Excavating
The Drive-In
Thunder Mountain Lodge & Restaurant
Tom & Julia Cox
Twisted Sisters Grub Box
United Country Realty
Valley Ranch Supply
Walck Ranches
Dean Walck, Author & Historian
Walters Ranches
Warren Bruton's Guide Service
Young Brothers Ranches
We applaud all of these families & businesses that supported the 2011 Mesa County Livestock Sale.

Alpine Motel (2x2 Inc)
Anderson Hereford Ranch
B&E Sales & Distributing
Big Creek Mechanical
Black Carriage Furniture
Bob Orton Dump Truck Service
Bridgett's Pilot Car Service
Central Service, LLC
Collbran Auto Parts
Collbran Creamery, LTD
Collbran Locker
Collbran Storage & Pre-paid Legal
Collbran Supply
Drs. Dennison
EnCana
Esperanza Ranch (the Hamm family)
FCI Constructors, Inc
Fosburgh Drywall & Construction
Foss Heavy Haul Trucking
Fresh Colorado Beef
Gross Excavating Inc
Grumpy's Tree Farm
Himes Drilling
Julius Ag Inc
Kahill Inc
Laramie Energy
Larry & Sheryl Palmer
McDaniel Ranches
McElwain Family
Home | About |PV Posts | PV Voices | PV Rocks | PV Rolls | PV Rules | PV Spirit | Things to DO | Places to GO | People to SEE| Contact Us
Plateau Valley Businesses & Orgs Directory | From PV? Get Listed | Enhance Listing | Offer Prizes/Sponsor Contests | Add Ads | Email Login