The Plateau Valley
~ in

Mesa County CO


We Welcome Visitors!

It's a hidden treasure nestled between The Grand Mesa and the Battlements (that's the range of mountains you see south of I-70 from Silt to DeBeque). The Plateau Valley lies along Hwy 330 and also includes part of Hwy 65 which is a scenic by-way over The Grand Mesa, home to 200+ lakes and abundant wildlife, just a short drive from Grand Junction Colorado.

The Plateau Valley cradles Plateau Creek, which begins on top of the Grand Mesa and flows into the Vega Reservoir. From there, Plateau Creek meanders basically West through Collbran, past Molina, Mesa, and down the Plateau Canyon to the Colorado River.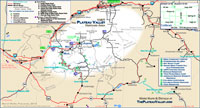 Directions

Hwy 330 (Exit 49 off 1-70, 65S to 330E) follows Plateau Creek most of the way up the Valley and would be considered the "main" road.
Coming into the Plateau Valley from I-70, the "DeBeque cutoff" is the first road (45 1/2 Road to the left) to fork off "the main road"; it reconnects to 1-70 in DeBeque (Exit 62).
At the next split in the road, you turn left to stay on Hwy 330 to go towards Molina, Collbran, and Vega, if you want to continue following Plateau Creek.
If you go straight, the road becomes scenic by-way Hwy 65 going through Mesa, over The Grand Mesa, dropping into Cedaredge. It ends at Hwy 92 which can take you to Hwy 50 at Delta, and back to I-70 in Grand Junction, or to I-70 at Glenwood Springs via 92 to 133 to 82.


From Mesa, KE Road crosses Hwy 65, and you can take "the back road" to Molina, which reconnects with Hwy 330.
If you follow Hwy 330, you'll have the opportunity to loop through Molina and see one of Colorado's smallest Post Offices, and probably some turkeys who hang out there. Another 7 miles or so, Hwy 330 takes you to Collbran, becomes Main Street for two blocks and then turns back East up "The Peninsula." Be sure to explore Collbran before taking 330 East (Hwy 330E) and following Plateau Creek to Vega Reservoir. You'll probably want 4-wheel drive, an ATV, or horses if you want to follow the creek any further.
Many ways in and out...
"The Silt Cut-off"
On Hwy 330E, about 5 miles before you get to Vega, Hwy 330E forks to the left and becomes CR 342 at the Garfield County line, rejoining I-70 at Silt (Exits 97, 105, or 109 off 1-70).
"Hightower"
Also off Hwy 330E (while on the Silt Cut-off) is a less-travelled route, CR 265 (Hightower Road) to Hwy 133 which will take you through Redstone and Carbondale to I-70 at Glenwood Springs. Or head to Aspen if you turn South at Carbondale. If you head west at Hwy 133, it turns into Hwy 92 in Hotchkiss, and ends at Hwy 50 in Delta. You'll pass through Somerset, Paonia, and Hotchkiss on this route.
"Over the Mesa"
From Mesa, take Hwy 65 South towards Cedaredge and enjoy the spectacular scenery as you climb and cross The Grand Mesa, the world's largest flat-top mountain. Along the top, off of Hwy 65 are more county roads, US Forest Service roads and/or BLM roads to explore. County Road 121 will take you by numerous lakes, past Bonham Reservoir and in to Collbran. The water in Vega and Bonham comes from The Grand Mesa, and mostly ends up in Plateau Creek, so when you're on top of The Grand Mesa, you're still officially in The Plateau Valley!
"The Full Circle"
Hwy 330 (Exit 49 off 1-70) to Collbran, then stay on Hwy 330. East of Collbran, take the "Hightower" route to Hwy 133. Head west towards Delta Hwy 133, Hwy 92.
After you pass Austin, and before you get to Delta, turn North towards Cedaredge. You're now on Hwy 65 - the "other main" road into the Plateau Valley.
Staying on Hwy 65, from Cedaredge, you'll be travelling over the Grand Mesa. You'll pass several lakes, Skyway (an amazing lookout point where you can see The Grand Valley and Grand Junction), the original ski area (tubers use it now), and the "new" Powderhorn Resort as well as several of the ski and snowboard runs. Once you get to Mesa, you can continue on Hwy 65 to meet Hwy 330 and head back to I-70. If you'll be heading East on I-70, you might want to explore The "DeBeque cutoff".
The "DeBeque cutoff"
Less than a mile west of where Hwy 330 and Hwy 65 join/split, is 45 1/2 Road, which goes North. It reconnects to 1-70 in DeBeque (Exit 62).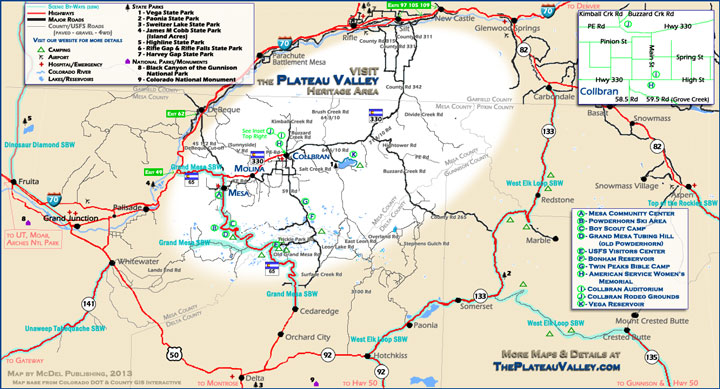 The PV Business Directory & Service Directory
for Collbran, Molina, and Mesa Colorado, and now Western Colorado

The Plateau Valley, a Hidden Treasure
Treasure Maps...

Collbran Colorado map
Molina Colorado map
Mesa Colorado map
The Grand Mesa map
Vega Reservoir/State Park map
Mesa County map
The Plateau Valley map