Maps of The Plateau Valley
click on map or name to view map online ~ click "print" link for high-resolution map
Directions TO the Plateau Valley
More Maps ~
Scenic By-Ways ~ Trails

Biking, Hiking, ATV/OHV, Snowmobiles, Cross-Country Skiing...

On the Grand Mesa...
State of CO Vega State Park brochure
USFS Grand Mesa Nordic Council County-Line Map/Brochure
USFS Crag Crest Trail
USFS Ward Lake Hiking Trails
USFS Mesa Lakes Hiking Trails

BLM Trails - all around PV
ATV/OHV Riders get More Freedom... new ordinance in Dec. 2014 allows access on COUNTY ROADS in Mesa County - see
BLM Seasonal Road Closures
Did you know that Mesa County is considered one of the "mountain biking capitals of the world"?
Talk to the folks at Rapid Creek Cycles for the inside scoop on the best local biking trails.
The Grand Mesa Scenic By-Way is one of eleven America's Byways® designated in Colorado.
CDOT Scenic By-Ways Map
Scenic By-Ways Biking Maps
CDOT (Colorado Department of Transportation) Road Conditions
No matter what the season,
you'll want to bring your camera!
Please visit this PV Places to Go Page sponsor!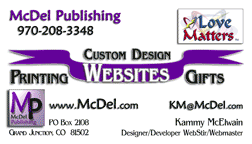 McDel Publishing
Custom Design, Website Services, Printing & Layout,
Personalized Full-Color Gifts & Gear
Contact Kammy 970-208-3348 or online
Plateau Valley Gathering Places
Collbran Auditorium, Parks, Rodeo Grounds

The Collbran Auditorium (a historic landmark as of 6/20/17), the Rodeo Grounds and Town Parks can be reserved for your special events by calling Collbran Town Hall at (970) 487-3751.


Town of Collbran Parks & Facilities
American Service Women's Memorial

American Treasure! The American Service Women's Memorial at the South end of Main St. in Collbran CO was dedicated on July 4, 1991, and was the first monument erected in the US dedicated to American Servicewomen.
More info: Mrs. Marvin Ivy 970-487-3004
Annual events include Hospice Spring Swing and PV 4-H Color Sunday Dinner. A community garden, numerous classes and summertime Music in the Park are a few more "happenings".
The "Little Free Library" is located near the playground.
This is a nationwide program and thanks to Miguel Lofland, we have one here in Mesa! Come get a book, leave a book, or just browse!
Serving the PV since 1903, the Congregational Church has housed numerous church services, weddings, receptions, meetings, activities, and community events. Annual events hosted by the church include Vacation Bible School, Turkey Dinner, Soup Supper, Christmas Recital, and the Senior Tea.
View current event schedule.
Vega, Bonham, Powderhorn, The Grand Mesa...
Scenic By-Ways
The Grand Mesa Scenic By-Way is one of eleven America's Byways® designated in Colorado.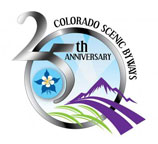 The Grand Mesa Scenic By-Way runs through the west end of the Plateau Valley. Four other by-ways surround the Plateau Valley. 2014 was the 25th anniversary.

Designated as a "Heritage Area" by the State of Colorado, it's a beautiful drive through The Plateau Valley. The heart of five Scenic By-ways, there are many treasures on and off the trail!
PV Treasures
People - Friends - Getting Together

!